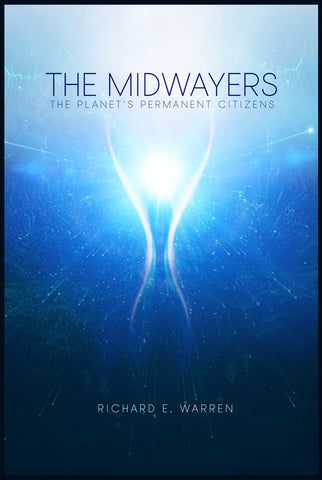 "The Midwayers – The Planet's Permanent Citizens" by Richard E. Warren
"Much goes on behind the curtain of invisibility that would fascinate humans. Now, thanks to revelation, we have been given a glimpse into the superhuman realm where the Midwayers have been living and working for a half million years.
"Almost everyone has had an experience for which the only explanation is help from unseen beings. Many attribute such experiences to the Guardian Angels, and they do indeed assist and protect us, but so do the Midwayers. In fact, the two work together to advance the individual and enhance global culture.
" The story in these pages will describe the nature, work, and history of these unique beings who are neither humans nor angels. They are in fact midway between the two.
"Until now, Midwayers were hardly known but their service is well known for it was they who rolled back the stone of the cavern where Jesus' body laid."
Copyright 2021. All rights reserved. 
About the Author:
Richard "Rick" Warren is a father, grandfather, retired repairman, veteran, and thirty-year student of The Urantia Book. He is a fiction writer living in Fort Worth, Texas, USA. The "Battlefield Guardians" story was inspired by revelations in The Urantia Book and created wholly by combining divine revelation with human imagination. It is the author's wish to provide a new vision of our next life; to make life on Earth richer in the knowledge and security of the persistence of eternal meanings and spiritual values; and to reveal the infinite possibilities and potentials of everlasting personal relationships with our Creator and our fellows.
Editor-in-Chief and Story Consultant: James Woodward
Formatting and editing: Rick Lyon
Cover design by Susan Lyon (with original art by Gary Tonge)
We are very pleased to have had the opportunity to work on this project with our friends Rick Warren, James Woodward, and Gary Tonge. We are especially happy to be able to offer this great new work of fiction to our Urantia community!
CosmicCreations.biz – The Urantia Store – the reliable source where those who love The Urantia Book can purchase Books, Gifts & Gear. We appreciate your reviews!
Domestic orders containing only books qualify for USPS Media Mail. Leave us a note if you don't mind waiting a few days and we'll be able to refund some of the shipping cost calculated at checkout!
---
We Also Recommend
---