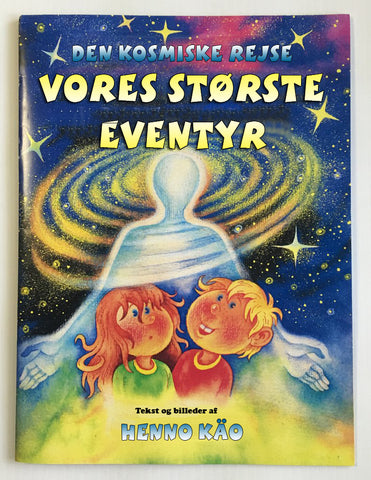 "Den kosmiske rejse, vores største eventyr" Børnebog af Henno Käo
Denne unikke og farverige 40-siders børnehistoriebog er designet til at hjælpe med at klarlægge koncepter fra Urantia Bogen (The Urantia Book) for den yngre generation, der vokser op i vores urantia-fællesskab og efterfølgende for at udvikle konceptet af vores planetariske historie og universet for alle børn. Det er ikke en erstatning for Urantia bogen, men den kan være nyttig for forældre, der har brug for et visuelt hjælpemiddel til at forbedre deres undervisning i avanceret sandhed til deres børn.

Denne historiebog opsummerer nogle af hovedkoncepterne fra Urantia Bogen (The Urantia Book) på en billedlig måde. Oversat til dansk fra engelsk fra den oprindelige estiske version. Trykt på slidstærkt papir. Vi tror, at dine små børn vil nyde at læse den, eller nyde at bruge kvalitets familietid med dig, der læser den for dem!
(Translator Danish) Oversætter Jean Ascher
CosmicCreations.biz – The Urantia Store – the reliable source where those who love The Urantia Book can purchase Books, Gifts & Gear. We appreciate your reviews!
Domestic orders containing only books qualify for USPS Media Mail. Leave us a note if you don't mind waiting a few days and we'll be able to refund some of the shipping cost calculated at checkout!
---
We Also Recommend
---