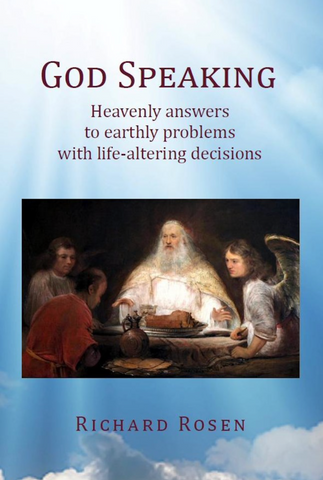 "God Speaking" by Richard Rosen
GOD SPEAKING
Heavenly Answers to Earthly Problems with Life-Altering Decisions
What good is aspiring to be spiritual if it does not translate into solutions for the quandaries, heartaches, and adversities of life? As one reader noted, "God Speaking answers some 60 questions about regularly encountered life difficulties. Solutions are listenable, down-home, and heartfelt."

This is an unusual book because it purports to be God speaking. How can that be? It is written: "The sincere religionist is…aware of making contact with sources of superhuman power" (Urantia Book. 100:6.3). We each have within us the Divine Presence whose "voice" we can cultivate. He ordinarily imprints his leadings into our consciousness through thoughts, insights, urges, inspirations, and such like. I use the term, "divine voice," to denote the synchronization of spiritual influences by our angels through which we are able at times to consciousize the higher mind. It is through the "divine voice" that God Speaking has been written.

God counsels on life-altering situations, such as those that follow. You may have questions of your own while reading the answers. Be assured that you can indeed ask questions, hear from, and be guided by the Divine Presence who dwells within your mind.

READ ANSWERS TO LIFE'S CHALLENGES, SUCH AS:

Choosing my life partner
I cannot forgive
My husband is cheating on me
Guilty over abortion
I feel like a failure
I want to retire but can't
Broken hearted
Ready to die
Scared of getting old
Homosexuality
Second-hand wife
Sex without marriage

About the Author: Richard Rosen is a teacher and writer of the spiritual life. With his wife Eve they freely counsel in the areas of relationships, money, health, and living aligned with your spirit.

Richard Rosen is also the author of:
LIFE AFTER DEATH

ANGELIC PLANETARY MANAGEMENT

LIVING SPIRITUALLY IN A PRACTICAL WORLD

HEALTHY LIVING
Copyright 2016. All rights reserved.
CosmicCreations.biz – The Urantia Store Online – the reliable source where those who love The Urantia Book can purchase Books, Gifts & Gear. We appreciate your reviews!
Domestic orders containing only books qualify for USPS Media Mail. Leave us a note if you don't mind waiting a few extra days and we'll be able to refund some of the shipping cost calculated at checkout!
---
We Also Recommend
---