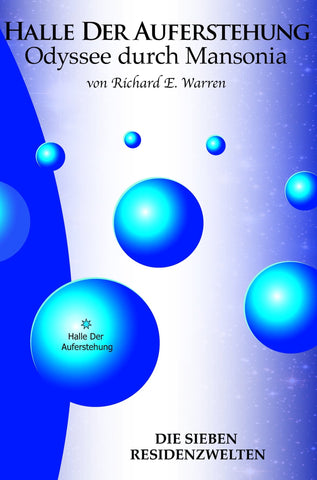 "Halle Der Auferstehung – Odyssee durch Mansonia" von Richard E. Warren
Wie wird es sein wenn wir aufwachen für ein Leben nach dem Tod?

"Halle Der Auferstehung: Odyssee durch Mansonia" versucht diese Frage im Lichte der Enthüllungen des Urantia Buchs zu untersuchen. 1955 veröffentlicht, offenbart das Urantia Buch eine Menge über unser zukünftiges Leben, von unserem ersten Atemzug auf der ersten Residenzwelt, bis zu unserer Ankunft im Paradies als vollendete Wesen. "Halle Der Auferstehung" ist eine spirituelle Odyssee, basierend auf diesen Offenbarungenüber Kala und Saro Maylon, die auf der ersten Residenzwelt wieder auferstehen, um die lange Reise zu Gottes Wohnstätte im Zentrum aller Dinge und Wesen anzutreten." In meines Vaters Haus gibt es viele Wohnungen." Copyright 2018.

Über den Autor

Richard "

Rick

" E. Warren wurde 1947 geboren und lebt in Fort Worth, Texas, USA. Er ist Vater von einer Tochter, hat zwei Enkel, ist pensionierter Mechaniker, Veteran, seit mehr als dreißig Jahren Student des Urantia Buchs und Romanautor. Sein Werk "Halle 
Der Auferstehung -
Odyssee Durch Mansonia
"
wurde inspiriert durch die Schriften des Urantia Buchs und entstand durch die Kombination göttlicher Offenbarung mit menschlicher Vorstellungskraft. Es war die Absicht des Autors eine neue Sicht auf das Leben nach dem Tod zu liefern, das Leben auf der Erde an Wissen zu bereichern und an der Sicherheit des Bestands ewiger Bedeutungen und spiritueller Werte, neben dem Fortbestehen unserer liebenden persönlichen Beziehung mit Gott und den Myriaden seiner Kinder in Zeit und Raum.

Deutsche Übersetzung von Alexander Hehlert
Satz/Layout/Design: Ryck Lyon  Umschlagmotiv: Susan Lyon
Edited by Rick Lyon / Cover design by Susan Lyon / Translation by Alex Hehlert. 
We are very pleased to have had the opportunity to work on this project with our friends Rick Warren and Alex Hehlert, and we are especially happy to be able to offer this great new work of fiction to our Urantia community!
CosmicCreations.biz – The Urantia Store – the reliable source where those who love The Urantia Book can purchase Books, Gifts & Gear. We appreciate your reviews!
Domestic orders containing only books qualify for USPS Media Mail. Leave us a note if you don't mind waiting a few days and we'll be able to refund some of the shipping cost calculated at checkout!
---
We Also Recommend
---