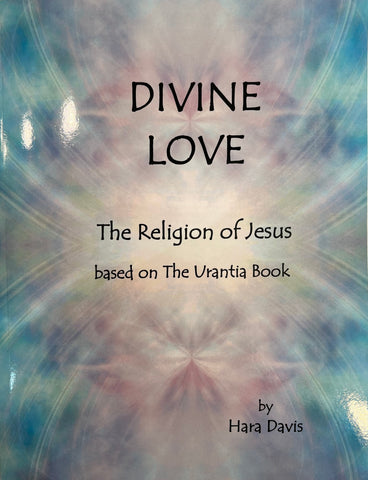 "Divine Love" by Hara Davis
DIVINE LOVE – The Religion of Jesus based on The Urantia Book is 73 pages – full color, soft-cover edition.
As Hara explains: "This visual representation of the bestowal of Jesus on this planet aims to show us how the truths he revealed can help and inspire us to live more meaningful lives with living faith. As we examine the faith and religion of Jesus as the Son of Man and the Son of God, we will discover how our own religion as a personal experience can grow and be nurtured.

"Jesus showed us how to live the perfect life. This study aid will explore his unselfish love, his living faith and the ways that faith and personal religion work together to enhance one another. Through Jesus' unified personality and his exemplary life of faith, we are encouraged to believe as he believed and share his living faith. We will observe how Jesus, as a Son of Man, developed his own faith in God and how it became a tangible reality for him. Our goal is to learn how we can make our own faith come alive. As we embrace the authentic teachings of Jesus, we will begin to identify various opportunities to integrate them into our daily lives and develop a strong personal religious experience."
This unique and colorful 73-page soft cover book is a topical guide designed to help clarify concepts from The Urantia Book. It is not a substitute for the book but may be useful for readers who need a visual aid to enhance their comprehension. 
Other publications by Hara Davis available through CosmicCreations.biz are:
URANTIA Study Aids, URANTIA Work Book, the Urantia Ascenders' Handbook, and Soul Evolution. Hara also offers Gem Cards. 
CosmicCreations.biz – The Urantia Store Online – The reliable source where those who love The Urantia Book go to purchase Books, Gifts, and Gear.
We appreciate your reviews!
---
We Also Recommend
---