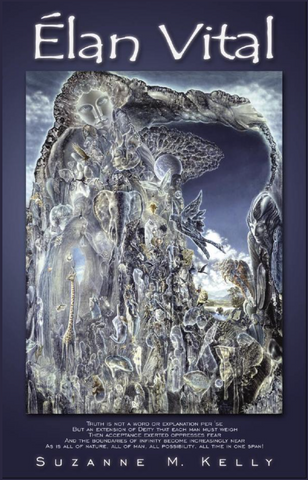 "Élan Vital" by Suzanne M. Kelly
"ÉLAN VITAL, translated (Fr) "Vital Impetus" is an Epic poem that expresses my view of the story of Man, his Creator. his evolutionary continuance and his connection to All That Is. In my search for the truth, I have walked to the end of many a precipice and looked out over the valley of belief that lay below. Each time if I looked long enough, I found among the bramble a flower of truth, beauty and goodness. In every valley of belief that I crossed, I took with me a seed of its enlightenment, and hopefully left the weeds of superstition, ignorance and ritual behind. Over many years those seeds of truth have grown into a personal understanding of mind, matter, energy and spirituality. I've organized them into a modern day Iliad, which has become my story of God and man - and the evolution of man toward God, ÉLAN VITAL."
Existence follows natural laws it continues
expanding in spite of the flaws
For all exist in time and space but our times of 
existence are not held in place
As Time can't be lost and space can't be found,
to each dimension nothing is bound
For everything is nothing and nothing's repressed
where all are contained and all manifest...

Truth is not a word or explanation per se
But an extension of Deity that each man must weigh
Then acceptance exerted oppresses fear
And the boundaries of infinity become increasingly near
As is all of nature, all of man,
All possibility, all time in one span! smk
Copyright 2007. All rights reserved. www.elan-vital.net
Cover art Astral Circus by Robert Venosa.
About the Author 
Suzanne Marie Kelly, MSOL is a Master of Science, and Organizational Leadership at Our Lady of the Lake University in San Antonio, Texas. Suzanne is also the Editor-in-Chief of JOURNAL, a newsletter of Urantia Association International from 2008-present.
We are very pleased to be able to offer this Epic poem with beautiful artistic interpretation to all of our Urantia community at a very reasonable price!
CosmicCreations.biz – The Urantia Store – the reliable source where those who love The Urantia Book can purchase Books, Gifts & Gear. We appreciate your reviews!
Domestic orders containing only books qualify for USPS Media Mail. Leave us a note if you don't mind waiting a few days and we'll be able to refund some of the shipping cost calculated at checkout!
---
We Also Recommend
---