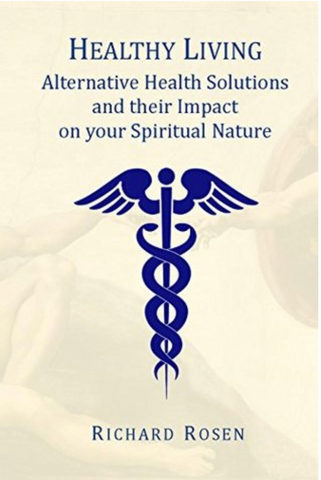 "Healthy Living" by Richard Rosen
HEALTHY LIVING – ALTERNATIVE HEALTH SOLUTIONS and their impact on your spiritual nature. "Those who do not find time every day for health must sacrifice a lot of time one day for illness."
Think for yourself and take control of your health. We each need to take control of our health by making our own medical decisions with the input from practitioners who share our viewpoint, all the while researching those things needed to maintain a sound and healthy body – which is the foundation of intelligent thinking, emotional well-being, and ultimately, spiritual growth. A healthy lifestyle facilitates an upreach toward God-consciousness and responds more easily to spiritual guidance. 
Achieve optimal health

Become knowledgable about health

Eat wholesome food

Avoid toxins and toxic environments

Correct your posture

Exercise

Reflect deeply over health care decisions – think for yourself

Select an alternative health practitioner
About the Author: Richard Rosen is a teacher and writer of the spiritual life. With his wife Eve they freely counsel in the areas of relationships, money, health, and living aligned with your spirit.
Richard Rosen is also the author of:
LIFE AFTER DEATH: A step by step account of what comes next.

ANGELIC PLANETARY MANAGEMENT

LIVING SPIRITUALLY IN A PRACTICAL WORLD

DEAR ABBA: God answers heartfelt questions of everyday living.
Copyright 2018. All rights reserved.
CosmicCreations.biz – The Urantia Store – the reliable source where those who love The Urantia Book can purchase Books, Gifts & Gear. We appreciate your reviews!
Domestic orders containing only books qualify for USPS Media Mail. Leave us a note if you don't mind waiting a few days and we'll be able to refund some of the shipping cost calculated at checkout!
---
We Also Recommend
---