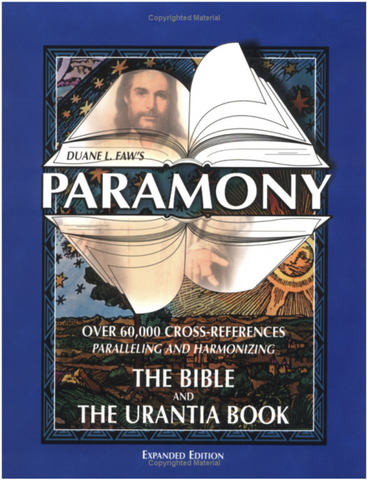 "Paramony" by Duane L. Faw – Gently Used Copy
"Paramony" - by Duane L. Faw is a parallel and a harmony of two of the world's masterpieces in religious literature, the Bible and The Urantia Book. Whether you are a student, a truth seeker, a Bible or Urantia Book teacher, a Christian minister, a Jewish Rabbi, a theologian, a philosopher, or a God-seeker, the PARAMONY can be of great help to you. It is over 60,000 cross-references paralleling and harmonizing the Bible and The Urantia Book.
This is a valuable resource for anyone interested in connecting and sharing the fifth epochal revelation with Christians. The Paramony also contains over 10,000 cross-references internal to the Bible and several thousand internal to The Urantia Book. Duane's labor of love and service to the Urantia community is appreciated by all who have used this book for in-depth study.
CosmicCreations.biz – The Urantia Store Online – The reliable source where those who love The Urantia Book go to purchase Books, Gifts, and Gear.
We appreciate your reviews!
---
We Also Recommend
---