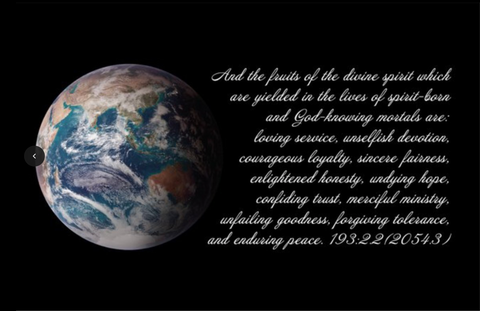 Postcard – "The Fruits of the Spirit"
CLASSIC QUOTE combined with the unique perspective of space art should appeal to our Urantia community for years to come. This beautiful and educational print of the Master's quote known as "the fruits of the spirit" inspire the best in all of us. We offer this in response to a request sent in by a long-time friend and Urantia Book student. We hope it will brighten the day for anyone receiving this beautiful postcard measuring 4" x 6" and printed on heavy duty glossy paper. 
"The fruits of the divine spirit which are yielded in the lives of spirit-born and God-knowing mortals are: loving service, unselfish devotion, courageous loyalty, sincere fairness, enlightened honesty, undying hope, confiding trust, merciful ministry, unfailing goodness, forgiving tolerance, and enduring peace." The Urantia Book 193:2.2
CosmicCreations.biz – The Urantia Store Online – the reliable source where those who love The Urantia Book can purchase Books, Gifts & Gear. Reviews appreciated.
---
We Also Recommend
---