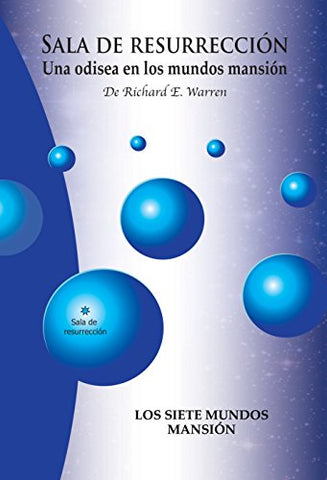 "Sala de Resurrección – Una Odisea en los Mundos Mansión" de Richard E. Warren
¿Cómo será despertarse en el más allá?
Sala de resurrección intenta responder a esta pregunta a la luz de las nuevas revelaciones que se encuentran en El libro de Urantia. Publicado en 1955, este libro hace grandes revelaciones sobre la vida futura, desde que abrimos los ojos en el primer mundo mansión hasta la llegada al Paraíso como seres perfeccionados. Sala de resurrección es la odisea espiritual basada en estas revelaciones, odisea que emprendió la familia Maylon cuando resucitó en el primer mundo mansión para comenzar el largo viaje a la morada de Dios, el centro de todas las cosas y todos los seres.
"En la casa de mi Padre hay muchas mansiones"
Copyright 2018. Traducción de Olga Lopez Molina.
Acerca del Autor: 
Richard "Rick" Warren es padre, abuelo, veterano técnico reparador ya jubilado y lleva treinta años estudiando El libro de Urantia. Es un escritor novel de ficción que vive en Fort Worth (Texas, EEUU). La historia de Sala de resurrección está inspirada en las revelaciones de El libro de Urantia y se creó en su totalidad combinando revelación divina e imaginación humana. Es deseo del autor proporcionar una nueva visión de nuestra siguiente vida y hacer la vida en la Tierra más rica en conocimiento y en la certeza de que los significados eternos y los valores espirituales perduran, y que sobreviven nuestras relaciones personales de amor con Dios y con la miriada de hijos del espacio y el tiempo.
Editado por Rick Lyon. Diseno de la portada: Susan Lyon. 
Edited by Rick Lyon / Cover design by Susan Lyon. We are very pleased to have had the opportunity to work on this project with our friend Rick Warren, and we are especially happy to be able to offer this great new work of fiction to our Urantia community!
CosmicCreations.biz – The Urantia Store – the reliable source where those who love The Urantia Book can purchase Books, Gifts & Gear. We appreciate your reviews!
Domestic orders containing only books qualify for USPS Media Mail. Leave us a note if you don't mind waiting a few days and we'll be able to refund some of the shipping cost calculated at checkout!
---
We Also Recommend
---