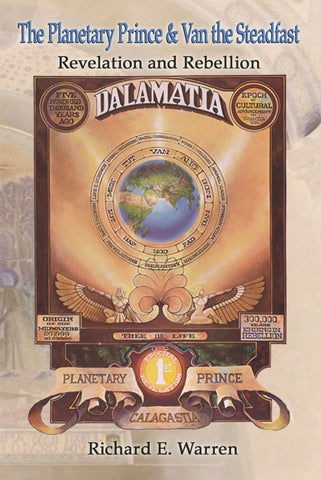 "The Planetary Prince & Van The Steadfast – Revelation and Rebellion" by Richard E. Warren
"Everyone has heard of Lucifer and Satan. Some believe scripture declaring they led the angels in betraying God and wreaking havoc in heaven and on earth. Others think such tales are only myths, made up stories to coerce humans into moral behavior. Truth can be found in both beliefs.
But there is a greater truth, one that involves a plan of progressive revelation to God's children, who are always provided with divine guidance by light bringers. Sometimes, however, those guides embrace darkness.
Long before Adam and Eve came to earth, a Planetary Prince was sent from the headquarters of our local star system to prepare the way for them. Celestial teachers are sent to every inhabited sphere to foster civilization, to lead the evolving races from primitive savagery into a golden era of light and life. But the prince became restless under God's plan for the gradual attainment of planetary perfection. Out of pride and impatience he chose to join the "war in heaven," and dragged our world into that dark rebellion.
But there were human and superhuman heroes who held to the light of truth and resisted the temptations of the iniquitous prince. Their story unfolds in this revealing account of earth's oldest and grandest sage." 
Copyright 2021. All rights reserved. 
About the Author:
Richard "Rick" Warren is a father, grandfather, retired repairman, veteran, and thirty-year student of The Urantia Book. He is a fiction writer living in Fort Worth, Texas, USA. "The Planetary Prince & Van The Steadfast" story was inspired by revelations in The Urantia Book and created wholly by combining divine revelation with human imagination. It is the author's wish to provide a new vision of our next life; to make life on Earth richer in the knowledge and security of the persistence of eternal meanings and spiritual values; and to reveal the infinite possibilities and potentials of everlasting personal relationships with our Creator and our fellows.
Editor-in-Chief / Story Consultant: James Woodward.
Formatted & Edited by Rick Lyon.
Cover design by Susan Lyon. Original cover art by John Byron.
We are very pleased to have had the opportunity to work on this project with our friends Rick Warren, & James Woodward; and we are especially happy to be able to offer this great new work of fiction to our Urantia community!
CosmicCreations.biz – The Urantia Store – the reliable source where those who love The Urantia Book can purchase Books, Gifts & Gear. We appreciate your reviews! 
Domestic orders containing only books qualify for USPS Media Mail. Leave us a note if you don't mind waiting a few days and we'll be able to refund some of the shipping cost calculated at checkout!
---
We Also Recommend
---