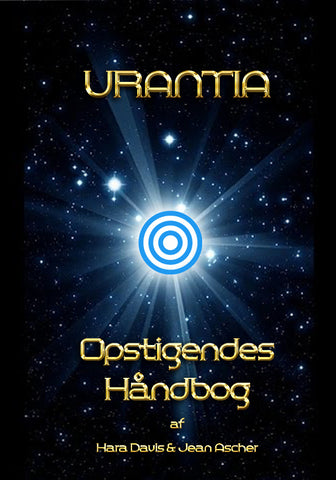 "Urantia Opstigendes Håndbog" af Hara Davis
Denne unikke og farverige 49-siders arbejdsbog er en faktuel guide designet til at hjælpe med til at klarlægge koncepter fra Urantia Bogen (The Urantia Book). Det er ikke en erstatning for bogen, men kan være nyttig for læsere, der har brug for et visuelt hjælpemiddel for at forbedre deres forståelse. "Urantia Opstigendes Håndbog" omhandler det detaljerede koncept for vejen til Paradiset og vores fremtidige evige tjeneste, som det åbenbares i Urantia Bogen (The Urantia Book.) Vi ved, at du vil sætte pris på de visuelle hjælpemidler.
(Translator) Oversætter Jean Ascher, Yourantiaman@mail.dk
Andre publikationer af Hara Davis tilgængelig via CosmicCreations.biz
"URANTIA Study Aids" & "URANTIA Work Book." Disse er IKKE oversat til dansk.
CosmicCreations.biz – The Urantia Store – the reliable source where those who love The Urantia Book can purchase Books, Gifts & Gear. We appreciate your reviews!
Domestic orders containing only books qualify for USPS Media Mail. Leave us a note if you don't mind waiting a few days and we'll be able to refund some of the shipping cost calculated at checkout!
---
We Also Recommend
---