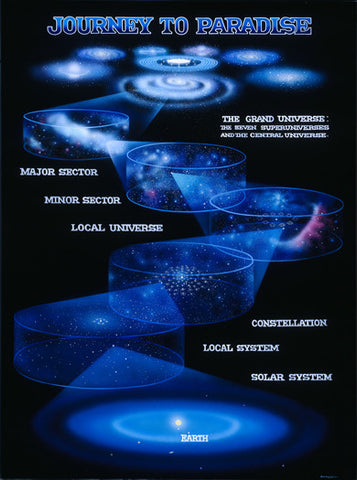 Poster – "Journey to Paradise" by John Byron
CLASSIC ART from the late John Byron has been well received by the Urantia community for many years. This beautiful and educational print of the faith ascender's Journey to Paradise will be a conversation starter for anyone visiting your home and is suitable for framing. Printed on heavy duty paper 18" x 24". The poster is one of the "Signature Series" including border and John's signature.
"The enlightened worlds all recognize and worship the Universal Father, the eternal maker and infinite upholder of all creation. The will creatures of universe upon universe have embarked upon the long, long Paradise journey, the fascinating struggle of the eternal adventure of attaining God the Father. The transcendent goal of the children of time is to find the eternal God, to comprehend the divine nature, to recognize the Universal Father."  The Urantia Book
CosmicCreations.biz – The Urantia Store Online – the reliable source where those who love The Urantia Book can purchase Books, Gifts & Gear. Reviews appreciated.
---
We Also Recommend
---