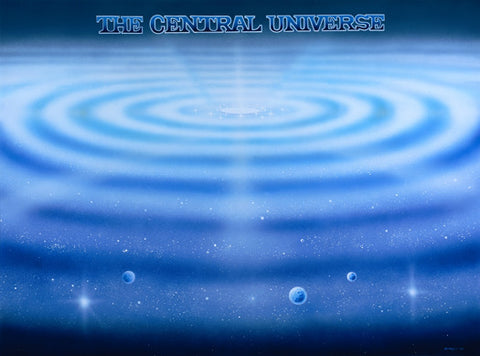 Poster – "The Central Universe" by John Byron
CLASSIC ART from the late John Byron has been well received by the Urantia community for many years. This beautiful and educational print of the Central Universe will be a conversation starter for anyone visiting your home and is suitable for framing. Printed on heavy duty paper 18" x 24". The poster is one of the "Signature Series" including border and John's signature.
"The perfect and divine universe occupies the center of all creation; it is the eternal core around which the vast creations of time and space revolve. Paradise is the gigantic nuclear Isle of absolute stability which rests motionless at the very heart of the magnificent eternal universe. This central planetary family is called Havona and is far distant from the local universe of Nebadon. It is of enormous dimensions and almost unbelievable mass and consists of one billion spheres of unimagined beauty and superb grandeur..." ~ The Urantia Book.
CosmicCreations.biz – The Urantia Store Online – the reliable source where those who love The Urantia Book can purchase Books, Gifts & Gear. Review appreciated.
---
We Also Recommend
---